This site uses cookies. By continuing to use this site, you are agreeing to our use of cookies.

Learn More.

We've updated our

Terms of Service

. By continuing to use our website and server, you agree to our new policies.

Dismiss Notice
The month of May has passed, however, the memories will continue to live on! Welcome to the eigth official Community Update post for the month of May, 2019. For those of you who have yet to play last month, or perhaps want to brush up on anything you may have missed out on, now you can review it all here in one place! Discover fellow community members around you; their creative builds, events won, video showcases and miscellaneous achievements throughout all worlds! Sit back, relax and see what all went down this month in May!
​
The Top player of the month is here! Through thick and thin, sickness and health -- you got it, this player made sure to be online no matter what it took to accomplish it. The Top Player of the month is an individual who has been online longer than all other community members server wide! If I don't call that dedication, then I don't know what that is!
Congratulations to,
CMMDiamondz
, for outlasting and outshining those around you with an absolutely insane playtime of:
3 Weeks and 3 Days
! Your hard work has paid off for you this month, because you are now officially crowned the
Top Player of May 2019
! With this accomplishment you will be rewarded with an
exclusive forum prefix and some top quality in game loot
!
FIRST ISLANDS
1.
Duckiiy
- 2w 3d 22h
2. FruchtIstGut - 2w 3d 2h
3. Miami_Heat - 2w 23h
MONSTER ISLANDS
1.
Jadcn
- 2w 5d
2. Dijana - 2w 2d 21h
3. _Emberly_ - 2w 2d 8h
DINO ISLANDS
1.
CMMDiamondz
- 3w 3d 23h
2. HandelMozart - 3w 3d 2h
3. DancingDiamondz - 3w 2d 48m
SHOWDOWN ISLANDS
1....​


Disney Build Event Winners Announcement
An official thank you to everyone that partook in this months build event contest. The overall outcome of entries was fantastic and it was awesome to see such a variety of users and their creativity! We have since gone through and taken a look at all entries and determined the winners. Those who qualify for a prize will be listed below. As always, It was a hard decision between some of these entries, so I have decided to have multiple winners for some sections. Congratulations and thank you to everyone who entered!
Now on to the winners!
✓ The top
"Three"
winners will be rewarded as promised.
Congratulations to everyone!
-x-
▧ First Place ►
Duckiiy
First Islands
A very creative Wreck It Ralph build! Not only were there multiple builds to display, but also lots of details and gorgeous sceneries!
------------------------------------------------------------------------------------------------

▧ Second Place ►

PumpkiPie
Arcadia Islands
If you're a fan of the Little Mermaid, then you're sure to love this build! Large in size and great attention to detail! This build is truly awesome!​


------------------------------------------------------------------------------------------------

▧ Third Place ►

ThatGirlKristin
First Islands
Star Wars fans unite! This build is awesome and definitely deserved a placement!​

▧ Third Place ►...​
An update is upon us within the Kingdom's land
Read onward to discover all of the new features that can now be found in game! We have been hard at work all week to release some exciting, hype induced, content that you are sure to enjoy. Below you can find a list of everything newly added, and a detailed explanation. This update includes many new game features such as the release of Kingdom's Battle Pass week 3, New Sacred Recipes, Obsidian armor and more! Keep reading and remember to join us on Kingdoms today in order to take advantage of these new, top quality additions!
​
New challenges and rewards have been released for the 3rd week of the Battle Pass.
Watch out for the challenges to be released this coming weekend and select the new week in order to complete all the challenges and gain the awesome new rewards.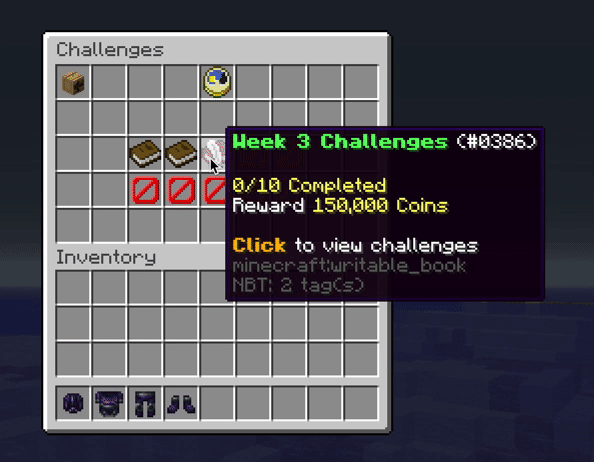 If you haven't already, head over to the shop and grab your Battle Pass unlock!
If you hurry, you might be able to catch a sale.
Kingdoms Store | Welcome
​
This week we see some old items returning with the new Sacred Recipe system!
The Halberdiers Halberd, working exactly how it used to, with some bug fixes implemented. If you do not remember what this beautiful masterpiece of a weapon did, it was a punishing Area of Effect attack. Everything in front of you would get damaged by this weapon, the most damage was dealt to the entity most directly in front of you.
​
The Goblin Sickle, is in the same boat as the Halberd. Works the same as it used to with some fine tuning of...​