This site uses cookies. By continuing to use this site, you are agreeing to our use of cookies.

Learn More.

We've updated our

Terms of Service

. By continuing to use our website and server, you agree to our new policies.

Dismiss Notice
The time has come where we have sat down once more and reviewed all entries to this months event! This month, however, was a bit different then our usual events and in such a spooky, but fantastic way! This month we opened our doors to the tricks and treats of some of the most talented individuals in the Skybounds' community. Open your eyes and ears to discover the wonders of Skybound's Halloween 2018!
There were so many awesome entries this month and I was so happy to see you guys fulfill my exceptions! That being said, we have since reviewed all of the entries that were obtained as of tonight, October 29th and have chosen our winners. Unfortunately for us, there were FAR too many mind blowing submissions, which means we had to change the rules a little to accommodate.

Here are the EIGHT top winners of this months event:
All of the following winners will be receiving the following:
- 1x Skybounds October Addition Monthly Crate
- 1x Random Immortal Shard
- 1x Iron Basic Island Tophy
- A $60 Gift Card to the Skybounds Donation Store
- And an exclusive "Halloween Event Winner" forum tag


SpookyAmy
[Dino Islands]
Talented piece of art work submitted, absolutely stunning!
Duckiiy

[First Islands]

Stinking CUTE short...​
Welcome to the fourth week of October! This week we have been focusing primarily on bug fixes -- so you should be seeing a noticeable change in how things are functioning on the server as of today! We are aware that there is currently an over abundance of bugs needing resolved, but we can assure you that they are being looked into and completed as we go! Trophy upgrades are now available in game, easily craft your Mini Trophies into Basic Trophies within ones crafting table. Event trophies will now be given to those who win the top placements in events, sporting an exclusive Enderman statue with loads of particles! A new Skydrop, the Dwarven Storm Generator, has been released and can now be found int he donation shop along with in various loot tables. Quick and easy navigation can now be acquired in all worlds with the use of our new /go command. New Shatter eternal enchantment released, Tutorial Starter Challenges and Player activity leaderboards! For more information on any of these new features, keep reading below. Enjoy a spooky special of 30% off the entire donation store this weekend only!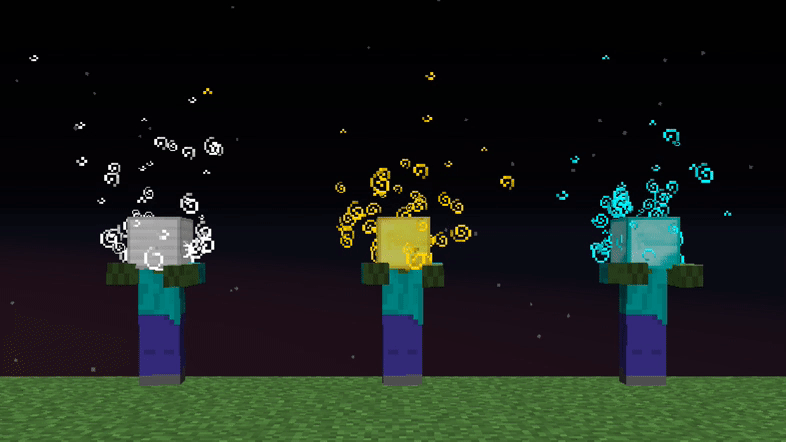 Island trophy upgrades can now be crafted within ones workbench. If you have too many mini trophies to your liking and wish to down size, you can now upgrade 9x of your given mini trophies in return for 1x Basic Trophy. No, you will not be able to upgrade different materials, all mini trophies will need to be of the same type (Iron, Gold, Diamond) in order to successfully upgrade.
Mini Iron = 1pt
Mini Gold = 3pts
Mini Diamond = 5pts
Basic Iron = 9pts
Basic Gold = 27pts
Basic Diamond = 45pts
Along with the Island Trophy upgrades, you may be seeing some new, limited edition event trophies. These trophies will be...​
This week is an update that's sure to outshine the rest. Lot's of new things have been added that were recommended, requested and thought out by those in the community who submitted suggestions to us! A special thanks to everyone who took the time to address their concerns via the forums, cause we listened! Disenchanting is BACK this week with a brand new concept. A New Storm Generator can now be found within the server loot tables, getting activated by the server and being sold in the donation store! Arcane dust can now be compressed within ones Automatic Smelters. A new Rename Scroll has been released to allow renaming of even MORE items! The Warzone was updated with custom grinders that give sellable drops, desired loot and more! Along with the Grinders, you can now find Hostile Mobs in the Boss Arenas for even more fun. OKits received a buff this week, along with Necromancer being transferred into a Standard Kit. A new Vendor is now within the Market allowing you to buy heaps of new building blocks and Coin Flip was added to the game as a quick and easy way to gamble stars and have a little fun!
Along with these changes come multiple bug fixes, new items in the Donation Store and a 25% off Donation Store Sale!
Welcome... to the *NEW* disenchanter! (Really Emotional)
The feature that was once available, but then remove is coming back in a completely different way. Through the use of the RARE
Black Scroll
item, you can remove ANY enchant from ANY Armor, Weapon or Tool. And then receive the book back in either an Unlockable Enchant or an Eternal Enchant Book depending on what the enchant is. All you simply do is click a
Black Scroll
onto the item you wish to disenchant in your inventory!
Currently the Black Scroll...​