This site uses cookies. By continuing to use this site, you are agreeing to our use of cookies.

Learn More.

We've updated our

Terms of Service

. By continuing to use our website and server, you agree to our new policies.

Dismiss Notice
Diving right on into to the second week of December, 2018 we would like to introduce to you all the new Immortal Beast Kit! This Kit can be found in the Savage Games official donation shop. To those who enjoy collecting our rare and exciting kits, or perhaps desire the new set bonus, make sure to check out the new iKIT in stores now! Along with the Immortal Kit, we are introducing a new perk in stores, Infinite Flight. This perk is applied to the purchaser, per world, and allows infinite flight on your Island and anyone else's whom has flight toggled on. Remember to grab yourself a December Monthly Crate before the month ends, along with some Prefix Spinner too! These two exclusive items are limited and will be gone from the store within the next few weeks! Enjoy a 25% off stale this weekend as well. :)
The NEWEST addition to the Immortal Kits has finally arrived, and you could say its a bit of a beauty but also a beast! This glorious must have IKit as you can quite clearly tell it called "Beast" and we decided to make it just that. It is a set designed purely for PvP but can also be used in PvE. The set bonus that comes on this set induces a beastly rage when you are attached in PvP. The rage gifts you with Strength 2, Speed 3 and Resistance 2 for 7 seconds, but has a 20 second cooldown. Lowkey it also comes with a bunch of good junk in it also!
Savage Games | Welcome
Skybounds is introducing a brand new perk, stores only, that will allow users to purchase Infinite Island flight on the world of their chose. With this perk, you will be able to enable flight for yourself on your Island at all times,...​
A new Monthly Crate is now available in stores!
For those of you who may not know what our Monthly Crates are all about, I'll be happy to explain! Our Monthly crates are loot crates that can be purchased once a month by users in the community. These crates are limited to their specific month of release, and the exclusive loot inside can only be obtained that month! Every month is guaranteed to have something new and exclusive for you to find!​
Exclusive Loot - New Prefixes
Jolly, XMAS, Grinch, Merry, Scrooge, Toy, Starry, Snowy, and HO
Christmas Tree Trail - New Trail
Live your best life this Holiday Season by becoming your very own... Christmas Tree! By wearing this trail, you may find yourself sparkling with every step you take! Showing off your red and blue ornaments / lights, along with a star perched on top -- this is the perfect trail for those who love to AFK and when not, you can expect to leave ornaments and pine needles scattered across the floor.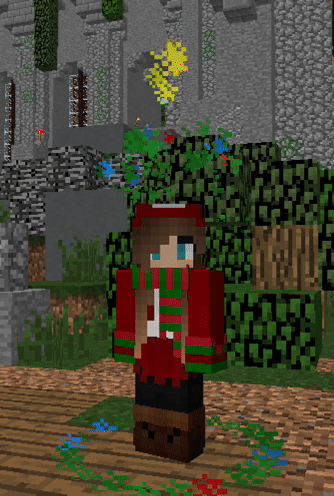 ​


Portable Reindeer - New Item
You know Dasher and Dancer and Prancer and Vixen
Comet and Cupid and Donner and Blitzen.,
You may even know Rudolph, but he's got nothing on your Reindeer!

With the new Portable Reindeer, you can now ride around all areas of the world. This includes your Player Islands, Spawns, Lobbies and even the Warzone! Use your new companion to quickly navigate your Islands, or perhaps AFK like a champion at spawn! Keep in mind though that your Reindeer can go out into the Warzone, so be weary of your travels and your jumps too! All Reindeers have been nerfed for Warzone related uses, however, upon going for a ride on your Island, you will be provided added speed and jump height! Your Reindeer is soul bound, so if he runs...​
The month of November has passed, however, the memories will continue to live on! Welcome to the second official Community Update post for the month of November, 2018. For those of you who have yet to play last month, or perhaps want to brush up on anything you may have missed out on, now you can review it all here in one place! Discover fellow community members around you; their creative builds, events won, video showcases and miscellaneous achievements throughout all worlds! Sit back, relax and see what all went down this month in November!
The Top player of the month is here! Through thick and thin, sickness and health -- you got it, this player made sure to be online no matter what it took to accomplish it. The Top Player of the month is an individual who has been online longer than all other community members server wide! If I don't call that dedication, then I don't know what that is!
Congratulations to,
NikiLuvsYou
, for outlasting and outshining those around you with an absolutely insane playtime of:
2 Weeks and nearly 6 Days
! Your hard work has paid off for you this month, because you are now officially crowned the
Top Player of November 2018
! With this accomplishment you will be rewarded with an exclusive forum prefix and some top quality in game loot! Please remember to comment below in order to claim your forum tag too!​
Another month means another group of community members that have been nominated for Player of the Week! These individuals are members that we have seen around Skybounds helping out and overall bringing positivity to the server. This month we were graced...​